EastMeetEast releases Daily Asian Crush, a NEW Casual Dating App for Asian-American Urban Singles
3.30.16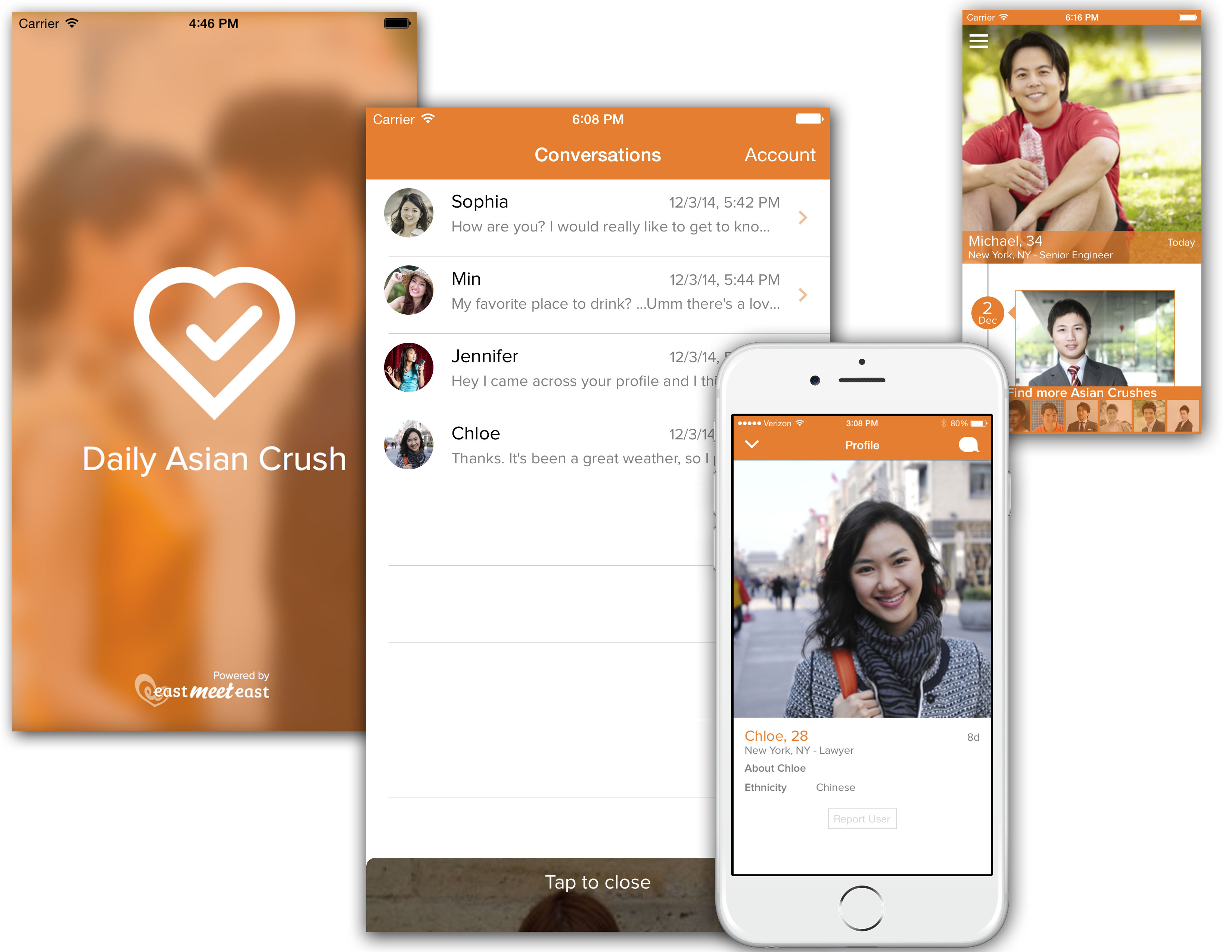 EastMeetEast, the premier dating destination for Asian-American urban singles, has released Daily Asian Crush, a new iPhone app that caters to the casual, on-the-go dating environment that has recently gained traction with apps like Tinder in urban cities like New York, Los Angeles and San Francisco.
Now, your next crush could be one tap away with Daily Asian Crush.
Daily Asian Crush is a sister app to EastMeetEast, the original Asian dating app and website. EastMeetEast has tripled its user base in the last 3 months as it has rapidly grown in popularity amongst young Asian urban professionals. Nearly 70% of the site's traffic is now on mobile phones.
With the release of Daily Asian Crush app, EastMeetEast knows that many of their users are busy urban Asian professionals, with no time for dating. Now there's a quick, fun and casual way to check out other Asian singles nearby.
Rather than inundate users with countless matches every day, the app features one "crush" a day, with Premium unlimited chat features unlocked for free.
"We developed this simplified dating app because research has shown that having too many choices actually leads to poor decision-making and regret. Such concepts also apply to the dating world. Browsing too many potential matches can overwhelm and stress out users who want a more casual, fun approach to dating. Offering 1 crush a day makes the process more manageable and enticing," says Mariko Tokioka, CEO and co-founder.
Each daily crush is tailored for each user's preferences and based upon an exclusive matching algorithm. Simply tap the featured profile photo to unlock a new guy or girl every day and check out the hottest singles.
How does it work? For a 24-hour window, you have a chance to "unlock" a daily featured crush. The next day, a new crush is featured – so if you like someone, you have to "seize the day" and unlock your potential new crush within the 24-hour window. Once unlocked, communication is completely free with your crush – even if you decide to message him or her a few days later. However, if you missed the 24-hour window for your featured crush, you'll have to hope for better luck tomorrow if you want to chat with them – or browse singles anytime on EastMeetEast.com.
Daily Asian Crush makes it easy to chat and flirt for FREE with your crush! It's guaranteed to make finding your next crush exhilarating, exciting and possibly even addictive.
For your daily dose, download Daily Asian Crush on iTunes today: https://itunesconnect.apple.com/WebObjects/iTunesConnect.woa/ra/ng/app/945536505
Unlock a NEW crush every day

Enjoy unlimited chat features for FREE

Find out what your crush thinks of you
EastMeetEast is dedicated to the Asian-American community and has actively sought out emerging Asian-American artists and media to partner with, including
Asian-American YouTube celebrities Richie Le , Andrew Fung of FungBros Comedy fame, and Off the Great Wall to create exclusive video content. Korean-American artist "Miss Mindful" Jess Kim also partnered with site to illustrate a cultural quiz "What type of Asian are you?" that was based upon pop culture nuances within the Asian-American community.
EastMeetEast has also collaborated with Filipino-American hip-hop choreographer sensation Brian Puspos and comedic sensation Just Kidding Films to connect with their fans, who are fiercely loyal to Asian-American artists in part due to their innate understanding of Asian cultural nuances and how that influences dating and relationships in America.
About EastMeetEast:
EastMeetEast is the #1 dating site for Asian urban singles, where Asian Americans can meet other like-minded singles in New York City, Los Angeles, San Francisco and other cosmopolitan cities.